Digital Signage for 
Corporate Communications
Looking for a powerful communication tool to connect your company? You're in the perfect place. Skykit's corporate digital signage and workplace experience solutions allow your business to run more smoothly than ever before.
Communicate key information and engage employees across your organization by turning screens into eye-catching digital displays.
Employee and Visitor Check-In
Make the return to the office a safer, more seamless transition with employee and visitor management software.
Effectively eliminate space misuse and wasted admin time with sleek space status displays and calendar integrations.
Trusted by some of the biggest brands
Corporate Digital Signage
Whether your entire team fits in one suite or you're operating offices across the globe, you can take advantage of digital signage for corporate communications. Skykit Beam offers a beautifully simple interface for uploading, sharing, and scheduling content.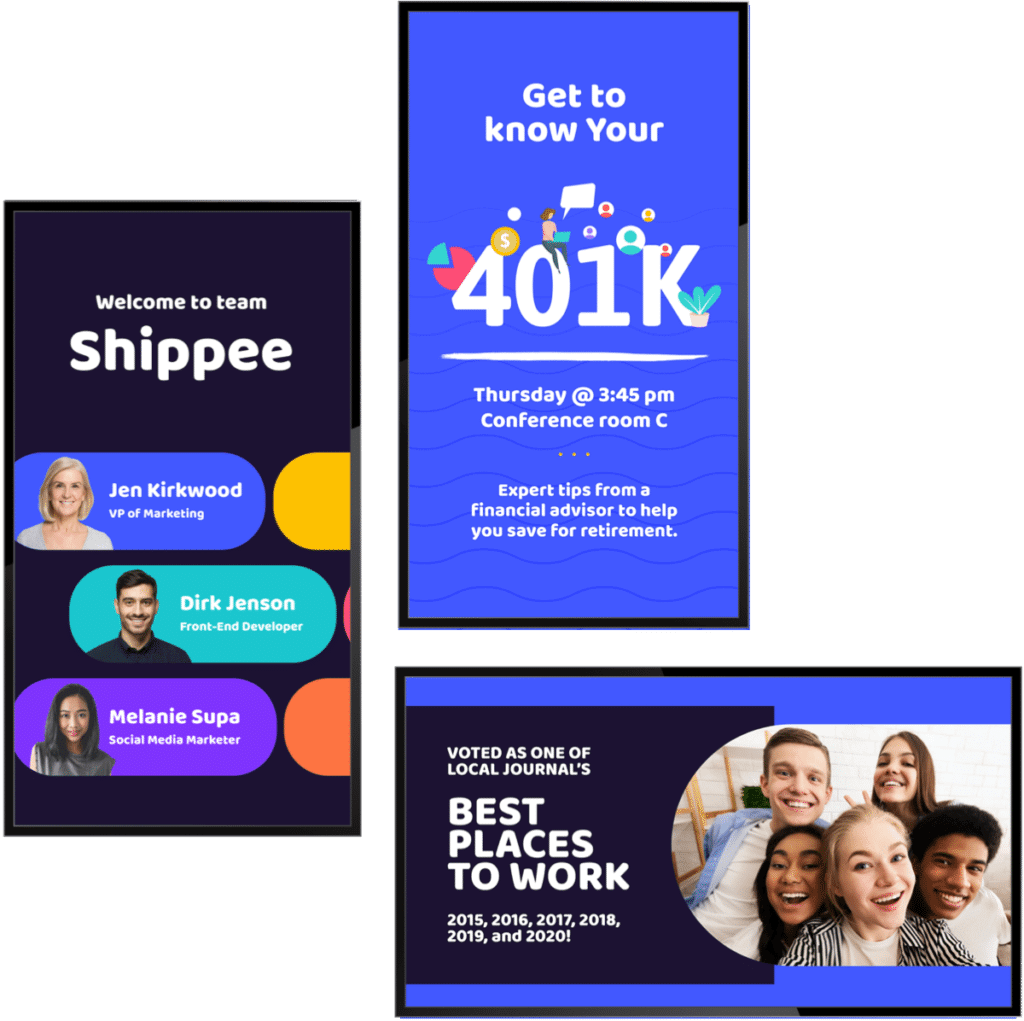 Turn any screen into a captivating digital display, and unlock the power of corporate digital signage.
Keep employees up-to-date with real-time dashboards, external announcements, training information, news feeds, and more.
Share a huge variety of content types, from videos and images to social media feeds.
Use your digital signage for corporate communications, employee engagement, or office efficiency – the sky's the limit.
Employee and Visitor Check-In
It's critical to understand exactly who is entering and exiting your workplace on any given day. With Skykit Turf Check-In, you'll get more than just visitor visibility – you'll get a secure way to check in both employees and guests, enabling you to streamline the office experience and protect your staff and clients.
Offer a touchless check-in experience upon entering your office.
Use secure activity logs for COVID-19 contact tracing when necessary
Easily manage and update employee directories to make checking in a breeze.
Minimize administrative work and reduce wait times for guests.
Desk hoteling and meeting space management is a frustrating burden. Ready to lighten the load for your facilities managers, HR, and IT? Turf Space Booking ensures your staff will be able to find a conference room or a desk exactly when and where they need it.
Enjoy an easy-to-use interface that allows employees to book meeting rooms on the go or using the calendars they already know and love.
Virtually eliminate space misuse, double-booked rooms, and wasted admin time.
Increase employee and overall office productivity.
Take advantage of space displays to show off your logo and brand colors.
See What Skykit's Workplace Experience Platform Can Do for Your Business
Ready for a demo? We've got real people on the other end of the line, ready to roll up their sleeves and help you revolutionize the workplace experience with digital signage, visitor management, and space booking tools.
Ready to give digital signage or workplace experience solutions a try?
We're happy to listen to your needs and help you make a decision.