Dynamic digital signage content can keep your displays fresh and engaging. Which was likely your goal when you first installed digital signage at your organization. Keeping that content new and exciting can be a challenge. However, doing so can reap big rewards, particularly if you have employees or guests who frequently see your screens.
In my role, working with customers from all types of organizations, I am frequently asked, "How do I keep my content from getting stagnant?". The best advice for creating dynamic digital signage is to build a digital signage content strategy and then a content calendar and include four key content approaches.
Creating a Content Calendar for Digital Signage
Just as the best communicators do, you can create a content calendar that keeps you on track. As you're building the calendar, consider how often you need to update the screens, how much new content you will have available or how much capacity to build new content, and how often you want to upload that content.
To help streamline your work, align your dynamic digital signage content with events and announcements you are planning. Doing so allows you to repurpose and reuse images and announcements on your screens.
With this approach, you'll want to be mindful of how often your audience sees your screens. For example, if you send out a monthly newsletter to employees or guests, you could take portions of that newsletter, create graphics and upload them to your digital signage content management system.
This may be sufficient if your audience only sees your screens a few times each month. However, if your audience sees your screens daily or even every other day, you'll want to update your content much more frequently.
I would suggest considering four types of content as you build your calendar and work to keep your content fresh.
Fresh, but static content:
This type of content may be videos, images, slides or more, but is created and uploaded at the time of need. Consider, for example, a monthly slideshow sharing company updates, employee recognition or new hires.
This type of information can only be built as it happens and is the most popular content shown on digital signage today. If not scheduled or planned for in advance, this type of content can be time-consuming to design and upload.
Evergreen content:
When you create content, programs, or playlists that can be reused, you are creating evergreen content. Programs or playlists can be pre-scheduled and timed to fit the right time of year.
For example, maybe your safety playlist is timed for winter weather, reminding employees to be cautious of icy sidewalks and streets. Having some pre-created evergreen content timed for specific events or seasons can keep your screens fresh.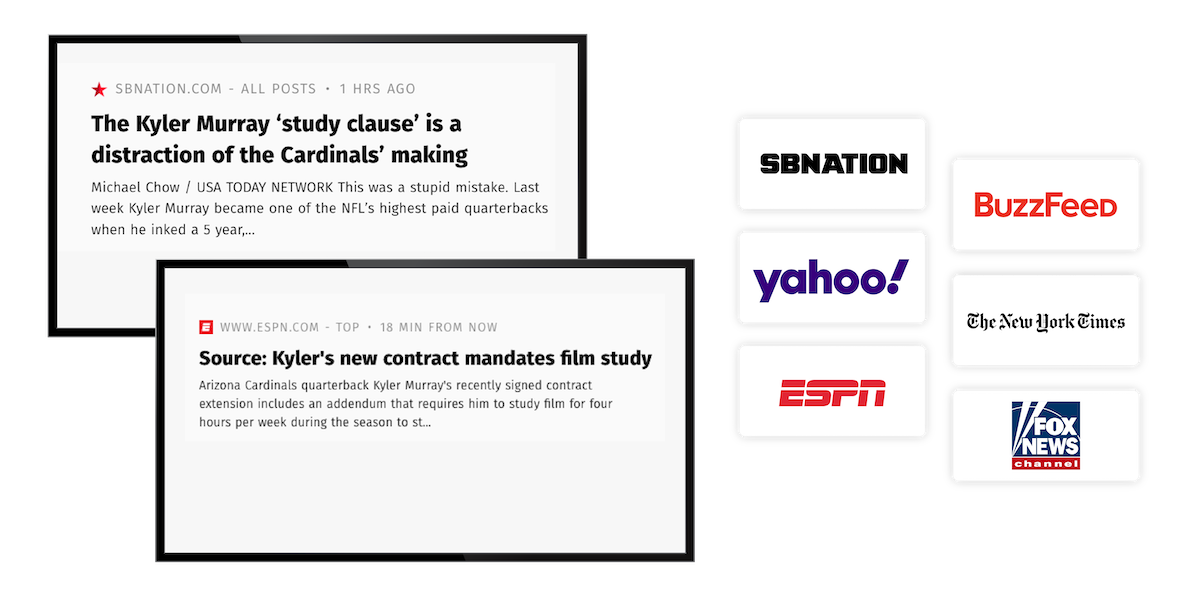 Fresh, dynamic digital signage content:
Some of our customers rely on social media feeds, web feeds, RSS feeds, weather, news, and financial information.
Adding this type of content into your routine naturally keeps your screens showcasing the most recent information. Building these feeds into your playlist is easy to manage, but are typically publicly available information.
Proprietary, real-time data:
Enable up-to-the-minute updated information and data, specifically relevant to your viewers. You can authenticate securely to your organization's critical data tools such as Salesforce, Tableau, Power BI, Datadog, company intranets, and more.
Doing so ensures a secure connection to your digital signage network and brings business-critical information – in real-time – to your audiences.
The best digital signage content calendar will incorporate some of these types of information. However, the more dynamic the content, the more likely your viewers will remain engaged with the screen content.
For example, a real-time Dashboard conveying business-critical information will help increase your viewers' engagement with all other content you are displaying.
Ultimately, the more you build feeds, evergreen content, and secure data connections to your most critical tools, the less custom content you'll need to develop to ensure your screens are always engaging and insightful.